Awarded to Sara Ruthberg, daughter of Villa Park's Route Representative,
Ed Ruthberg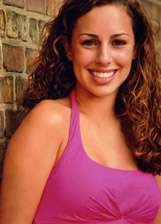 The Peter G. Brown Educational Scholarship is to be awarded not only for the graduating senior's outstanding scholastic achievement, but also for their participation in extra curricular activities and community involvement. The 2012 Peter G. Brown Scholarship Gold Scholarship of $5000, is proudly awarded to Sara Ruthberg, daughter of Villa Park's Route Service Representative, Ed Ruthberg, and his wife, Kayleen.
As a senior at Lisle Senior High School, Sara not only achieved a cumulative GPA that exceeded the 5.0 scale and was in the National Honor Society, she was also involved in many extra curricular activities. Some of the many activities included Cross Country, as a captain for 2 years, Soccer, Bowling, Key Club, 'Be the Change' Club… and many more! Sara also volunteered with the Salvation Army, where she earned awards for her work.
One of the events in Sara's life that played a critical role in making her who she is today was working with less fortunate children as a camp counselor. Sara learned how important attitude is and how it can impact others. Sara's gift to help others was expressed in the recommendation letters from her teachers and coach. Included in the recommendation letters were also words that described Sara as: delightful, amazing, exceptional people skills, superb organizational skills… and the list goes on! Surely, all of these terrific skills will help Sara as she attends Augustana College in September. Sara will major in Elementary Education.
Mickey's Linen couldn't think of a better way to honor Peter G. Brown than by presenting the Peter G. Brown Educational Scholarship to Sara Ruthberg — we are extremely proud that Sara will be receiving the scholarship award that bears the Peter G. Brown name. Sara posses the qualities the Scholarship Committee looks for in graduating seniors: discipline in academics, diligence in giving back to the community, strong drive and perseverance, respected by their teachers, involved and a hard working student. Congratulations Sara, as well as the Ruthberg family – you deserve to be proud!