About Mickey's Linen: Your Trusted Linen and Uniform Rental Partner
Serving Your Business


Midwestern Style.
We are a leading linen partner in the Midwest, serving central Illinois, Milwaukee, northern Wisconsin, northern Indiana, and surrounding areas.
At Mickey's Linen, we cater to businesses in need of reliable linen and kitchen uniform rentals on a weekly basis. From neighborhood hotels to well-known brand-name food and beverage operators, local neighborhood bars, your favorite local hangout, and everywhere else in between.
Why Choose Mickey's Linen?
When you need linens for your restaurant, you need a reliable partner who can provide high-quality products and dependable service. That's where Mickey's Linen comes in.
Mickey's Linen is a fourth-generation family-owned and operated linen and uniform rental company, proudly serving Chicago since 1930. We have a deep understanding of the unique and creative restaurant scene in Chicago and aim to bring that experience to the surrounding areas, including Milwaukee, Hammond, and more.
Our Commitment to

Excellence.
Our team is passionate about helping you succeed. We are dedicated to providing timely delivery, personalized service, and creative solutions to unexpected challenges. We listen to our customers, anticipate their needs, and deliver well-rounded, specific, and effective results.
We stay ahead of the curve by employing the best and latest technologies to help our customers keep up with the latest trends in the restaurant industry. With over ninety years of experience, we have maintained the same level of devotion to achieve our goal: delivering complete satisfaction to each of our customers.

We promise quality products, timely delivery, responsiveness, flexibility, and a profound understanding of the food and beverage industry. From casual dining to fine dining, from neighborhood cafes to Michelin-starred brand names, our reliable and responsive service allows you to focus on what you do best – creating delicious food and providing an exceptional customer experience.
Expanding Our Reach Across the

Midwest
Over the last 90 years, we've worked hard to expand our service areas. With the support of our community, our service coverage now extends south to Champaign, IL, north to Appleton, WI, west to Madison, WI, and east to Michigan City, IN. With multiple bulk laundry processing facilities and five service depots, we efficiently serve a wide territory within the Midwest.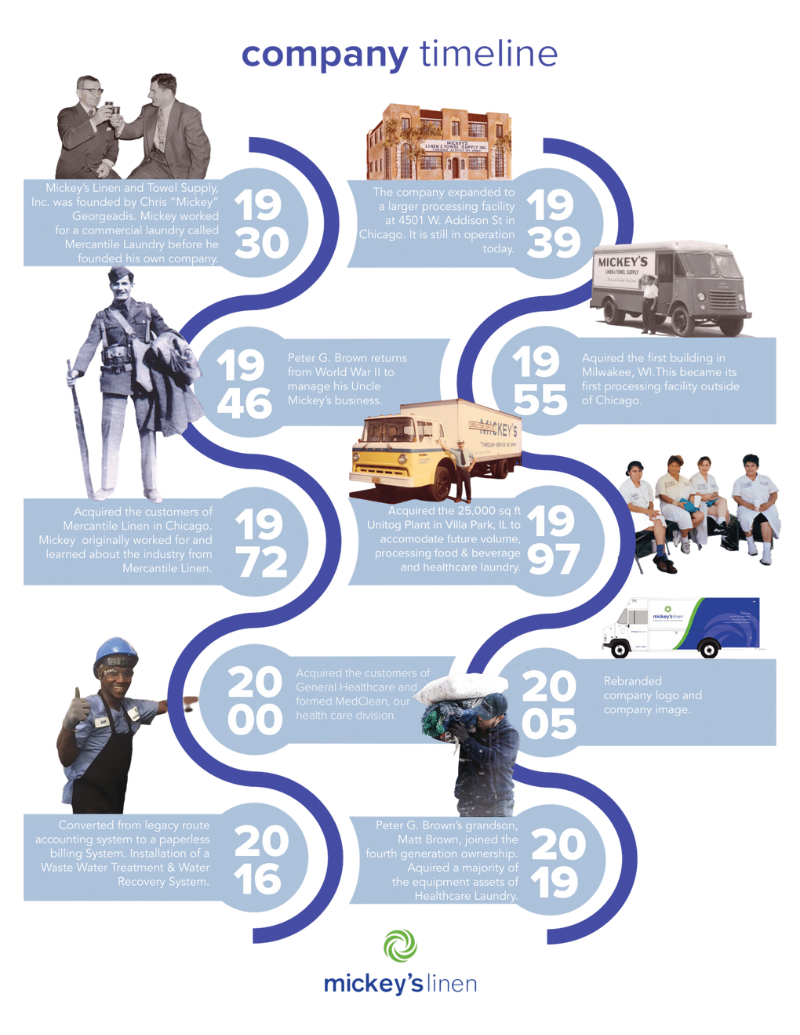 Customer-Centric Approach
We are committed to working with and servicing you, which is why we foster a culture of open and easy communication. Our team of experts is always ready to assist you with any inquiries or requests you may have.
Our #1 goal is to ensure your complete satisfaction. Here are several of your main contacts involved in managing and servicing your account:
Weekly Route Service: Primary contact & weekly route service representative.
Service Requests: Office hours – 9:00 AM - 4:30 PM, responsive customer service accessible through our contact page
Route Manager: Secondary contact responsible for managing and overseeing your account.
Accounts Receivable Rep: Questions on your weekly billing, monthly statements & payment terms.
You will receive the invoice you signed within 24-36 hours of your delivery. You will receive an emailed statement every month on the 3rd or 4th business day. You can arrange your preferred payment method with your RSR.
In the City of Chicago, a certified Food Service Sanitation Manager is required to be on duty at all times when potentially hazardous food is prepared or served. This person is responsible for overseeing the food handling and preparation process to prevent the occurrence of foodborne illness.
The Food Service Sanitation Manager Certification program is administered by a Mickey's Linen approved trainer. Mickey's provides these training programs at no cost to its customers. The program is designed to offer food handlers and supervisors an understanding of food safety issues, regulations, and techniques to maintain a food-safe environment. This program teaches how handling food correctly is not only the law but also improves safety and lowers costs as well.